Our mission
Our goal is to provide a safe haven for survivor bees and to share  knowledge about natural, sustainable beekeeping. When working with colonies we focus on proper maintenance rather than artificial support, to help them grow and flourish in a natural way.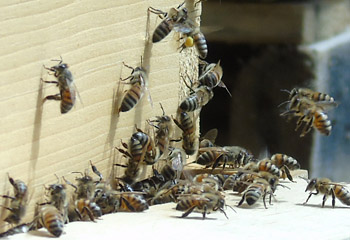 Our apiary
Years ago we started out with different types of bees to ensure a genetic variety: Italian, Carniolian, and Buckfast.  Now, in addition to next generations of our original stock, we also keep a local mix, survivor bees, which show a good ability to thrive in the local climate. They are an important factor in successful natural beekeeping. Our hives are treatment free. We allow our colonies to have their own queens. That way we know that our queens are raised in as clean environment as possible.
In our apiary we have different types of beehives for teaching purposes:
Langstroth hives with a deep brood box
Langstroth hives with two medium brood box
Long Langstroth hive with deep frames
Horizontal top bar hives
Comfort hives/ mating nucs
Future project -Layens hive
In our apiary we use various bottom boards, top covers, and inner covers to be able to show students that a different approach is possible.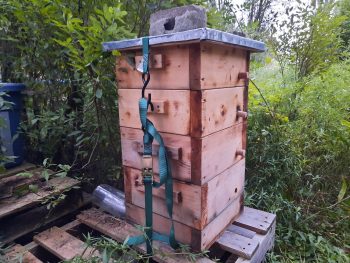 We started using Comfort hives out of curiosity as it is an interesting concept where bamboo skewers are used instead of the top bars or the frames. That style of the hive was developed by Sam Comfort from Anarchy Apiaries located in U.S.
We use mainly wooden, foundation-less frames in our beehives. This allows us to keep our beehives free of contaminated wax. We also have few top bar hives where instead of frames pieces of wood are used.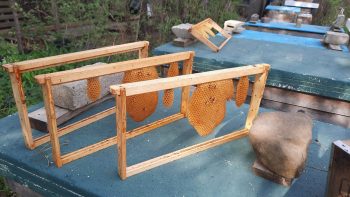 Our educational apiary is located at The Living Centre,  5871 Bells Rd, London, ON. Canada.  There, we provide our students with a "hands on" experience on natural, sustainable beekeeping.