Swarm Removal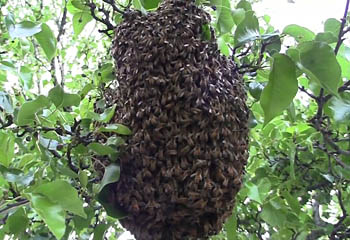 Free of charge service.
Do not call an exterminator! Honeybees can be safely removed from your property alive, without using toxic chemicals.
Do not spray the cluster. Let us know exactly where the bees are, how high the cluster is and where it is.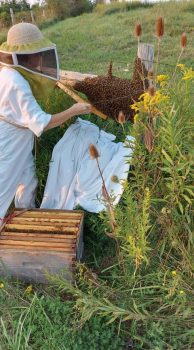 Contact us as soon as possible. The swarm removal is a free service.
Important!



This is how the bald faced hornet nest looks like. The yellow jacket nest has smoother walls.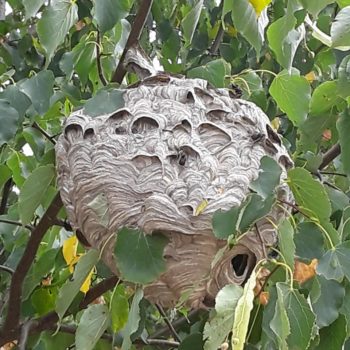 Honeybee colony extraction
We retrieve honeybee nests from inside trees, voids in your house, and other places. Depending on the circumstances we use an extraction method or a trap-out.
Make sure that what you have are honeybees, not wasps or hornets.
Take a picture of the site and the bees if you can, so we can assess the job.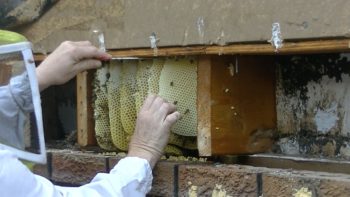 Honeybees are small and furry with golden or brown stripes, yellow jackets are bright yellow and shiny.  Contact us, if you have honeybees that have established a colony.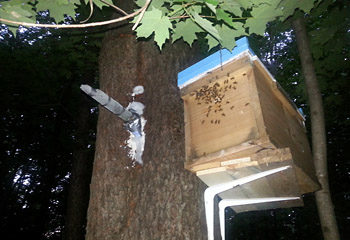 The cost of the established hive removal varies.  Please contact us for a quote.
If you wish to donate to our bee rescue activity, please contact us.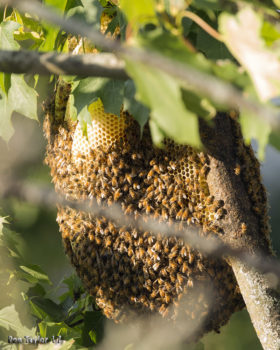 Honeybee swarm boxes placement
Free of charge service. Have you had a problem with a feral honey bee colony on your property before? Sometimes it can be an expensive and annoying headache to remove them, if they are between walls.
Even if you decide not to call a beekeeper to help you with an extraction and you choose to call an exterminator or spray them yourself, the colony has to be removed anyway and all openings have to be sealed. A dead colony may attract mice, cockroaches and other  vermin and also will rot.
Do you want to avoid this problem in the future?
If you contact us we will set up a bee trap near the place which was occupied by them in the past for free.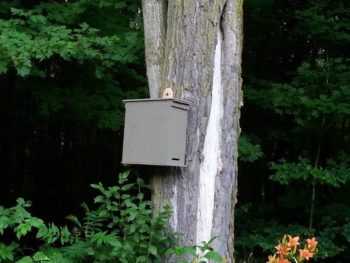 When a swarm will pay you an unwanted visit, it will move into the swarm box instead of your porch or a nearby tree. This way instead of having a feral colony in an unwanted place, you will provide them, as well as yourself, with a better option. Once the swarm box is occupied we will provide the colony with a new, safe home in our apiary.
Small garden pollination
London, ON and surrounding area.  If you have a vegetable garden free of pesticides or herbicides and you want a better crop, but there is lack of pollinators in your area, please contact us.  Our bees will help you to pollinate your flowering trees, bushes, strawberries, and vegetables, like beans, cucumber, zucchini, or squash in your garden.
Please contact us for details.  (This service is not offered to commercial farms or orchards where pesticides were used. Small, organic or permaculture farms are welcomed to inquire.)
"Host a hive" program. There is a small, nominal fee per hive to cover our travel costs (please inquire). You will host, during the season, one or two startup colony hives on your property with a mutual benefit for your garden and our bees. We will take care of our bees and if the season is bountiful, you will get a jar of raw, unpasteurized honey (first year colonies sometime will not produce an extra honey).
"Sponsor a hive" program. Please inquire about cost. One to two startup hives,  will be placed on your property in May (an exact day can vary depending on temperature and weather) Hive/hives will be removed next year, if you decide not to repeat the sponsorship for the next season. It will give you an opportunity to participate in the whole year hive maintenance. Every ten days – two weeks we will visit to check on the bees and you can participate in one-on-one, hands-on "beekeeping in a nutshell".
"Sponsor a hive" program for companies/organizations. Payments are on monthly basis.  On the ground or rooftops. Please inquire for details.
If you are interested in offering space to several hives all year around, we would love to hear from you.

Hosting a hive in a backyard
Consultation in person

We provide one-on-one consultation for beginners. Please contact us for details.
Virtual Interactive Consultation
We offer an online interactive consultation for first year natural beekeepers and also a troubleshooting consultation for any natural beekeeper who needs it.
Note: We do not offer a chemical treatment consultation of the hive.
The seven month subscription package contains three online consultations (one hour each) via ZOOM and three email consultations per month. Unused consultations for the given month can be moved forward to another month in the span of your seven month subscription.
Closeup pictures and short videos of the problem are encouraged. They can be taken by phone, but they have to be sharp/ clear enough for the problem to be visible. You need to send them to us before the date of the consultation, to get the most out of the meeting. You can share them with us using Google Drive, Dropbox or an email.
One time virtual consultation,  $50 per hour.
Mentoring
Do you need to learn a hands-on side of beekeeping from an experienced beekeeper? Please contact us for details.