Swarm Removal – free of charge service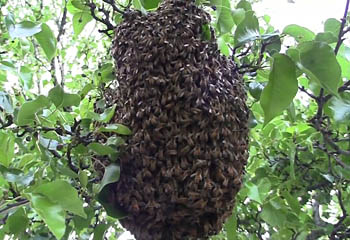 Do not call an exterminator! Honeybees can be safely removed from your property alive, without using toxic chemicals.
Do not spray the cluster. Let us know exactly where the bees are, how high the cluster is and where it is.  Contact us as soon as possible.
The swarm removal is a free service.
Honeybee colony retrieval
We retrieve honeybee nests from inside trees, voids in your house, and other places. Depending on the circumstances we use an extraction method or a trap-out.
Make sure that what you have are honeybees, not wasps or hornets.
Take photos of the site and the bees if you can, so we can assess the job.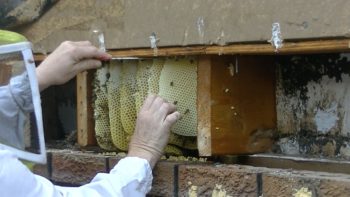 Honeybees are small and furry with gold or brown stripes, yellow jackets are bright yellow and shiny.  Contact us, if you have honeybees that have established a colony.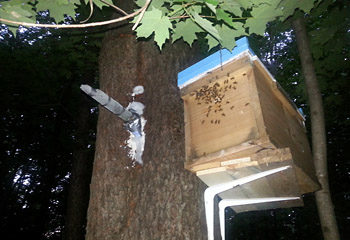 The cost of the established hive removal varies.  Please contact us for a quote.
If you wish to donate to our bee rescue activity, please contact us.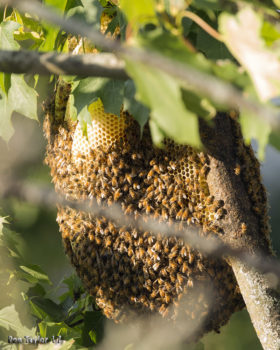 HoneyBee Traps – free of charge service

Have you had a problem with a feral honey bee colony on your property before? Sometimes it can be an expensive and annoying headache to remove them, if they are between walls.
Even if you decide not to call a beekeeper to help you with an extraction and you choose to call an exterminator or spray them yourself, the colony has to be removed anyway and all openings have to be sealed. A dead colony may attract  vermin and will rot.
Do you want to avoid this problem in the future?
If you contact us we will set up a bee trap near the place which was occupied by them in the past for free.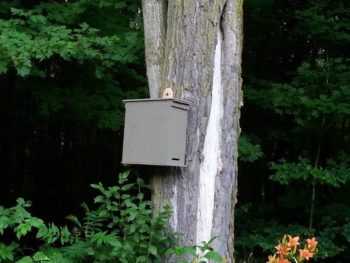 When a swarm will pay you an unwanted visit, it will move into the bee trap instead of your porch or a nearby tree. This way instead of having a feral colony in an unwanted place, you will provide them, as well as yourself, with a better option. Once the bee trap is occupied we will provide the bees with a new, safe home in our apiary.
Small garden pollination
London, ON and surrounding area.  If you have a vegetable garden free of pesticides or herbicides and you want a better crop, but there is lack of pollinators in your area, please contact us.  Our bees will help you to pollinate your flowering trees, bushes, and vegetables, like beans, cucumber, zucchini, or squash in your garden.
Please contact us for details.  (This service is not offered to commercial farms or orchards where pesticides were used. Small, organic or permaculture farms are welcomed to inquire.)
"Host a hive" program. There is a small, nominal fee per hive (please inquire). First option: June – August, removal at end of September. Second option: May – September, removal at end of September. You will host one or two startup colony hives on your property with a mutual benefit for you and our bees during the season. We will take care of our bees and if the season is bountiful, you will get a jar of raw, unpasteurized honey (first year colonies sometime will not produce an extra honey).
"Temporary residence" program. There is a small, nominal fee per hive (please inquire). Few frame hive for a temporary (during the season up to two weeks) residence in your backyard.  Sometimes we need to move our new hives out of the apiary for a short time.  This way you do not need to worry about your neighbours or about having bees on your property for the whole season.  We will take care of the hive maintenance.
"Sponsor a hive" program. Please inquire about cost per hive. One to two hives, standard size, will be placed on your property in May (an exact day can vary depending on temperature and weather) Hive/hives will be removed at the end of September. Every ten days – two weeks we will come around to check on the bees and you can participate in one-on-one, hands-on "beekeeping in a nutshell". The hive or hives will be removed in September and you will receive four jars of your own unpasteurized honey!
"Sponsor a hive" program for companies/organizations. Payments are on monthly basis.  On the ground or rooftops. Please inquire for details.
Consultation

We provide one-on-one consultation for beginners. Please contact us for details.