Splits, nucs, and bee traps – at our educational apiary

Advanced Beekeepers only
The date of the class will be announced closer to the season. Please contact us if you are interested.
10:00 am – 2:00 pm
At our educational apiary
The Living Centre,  5871 Bells Rd, London
Space is limited.
This workshop is a  combination of open beehive demonstrations.  Also we will discuss various methods of splitting a beehive and benefits of making nucs and bee traps.
Length: 4 hours.
Price $80
A basic knowledge of beekeeping is expected from participants. You need to have at least one season of beekeeping experience prior to attending.
Participants will need a protective gear (hat, veil) and closed toed footwear.  Long sleeves and light colored material clothing is suggested.  Please bring your own protective head gear.  A simple bug jacket or mosquito veil will suffice. Refillable water bottles are recommended. A notebook and pencil could be handy.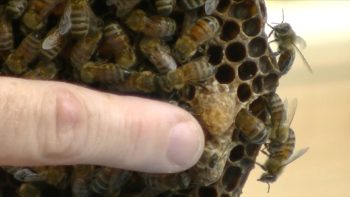 Making nucs –

at our educational apiary
For Advanced Beekeepers
Sold out!

New class in 2019 season!
You are going to make a nucleus colony (nuc), together with a teacher.  Participants will have hands-on experience using colonies from our hives. Please register early as the space is going to be limited!